In This Lesson You Will Learn The Google Ads Interface
The purpose of this lesson is to show you guided steps on how to use Google Ads and take actions in your account, look at its basic features and how to use them to meet your goals.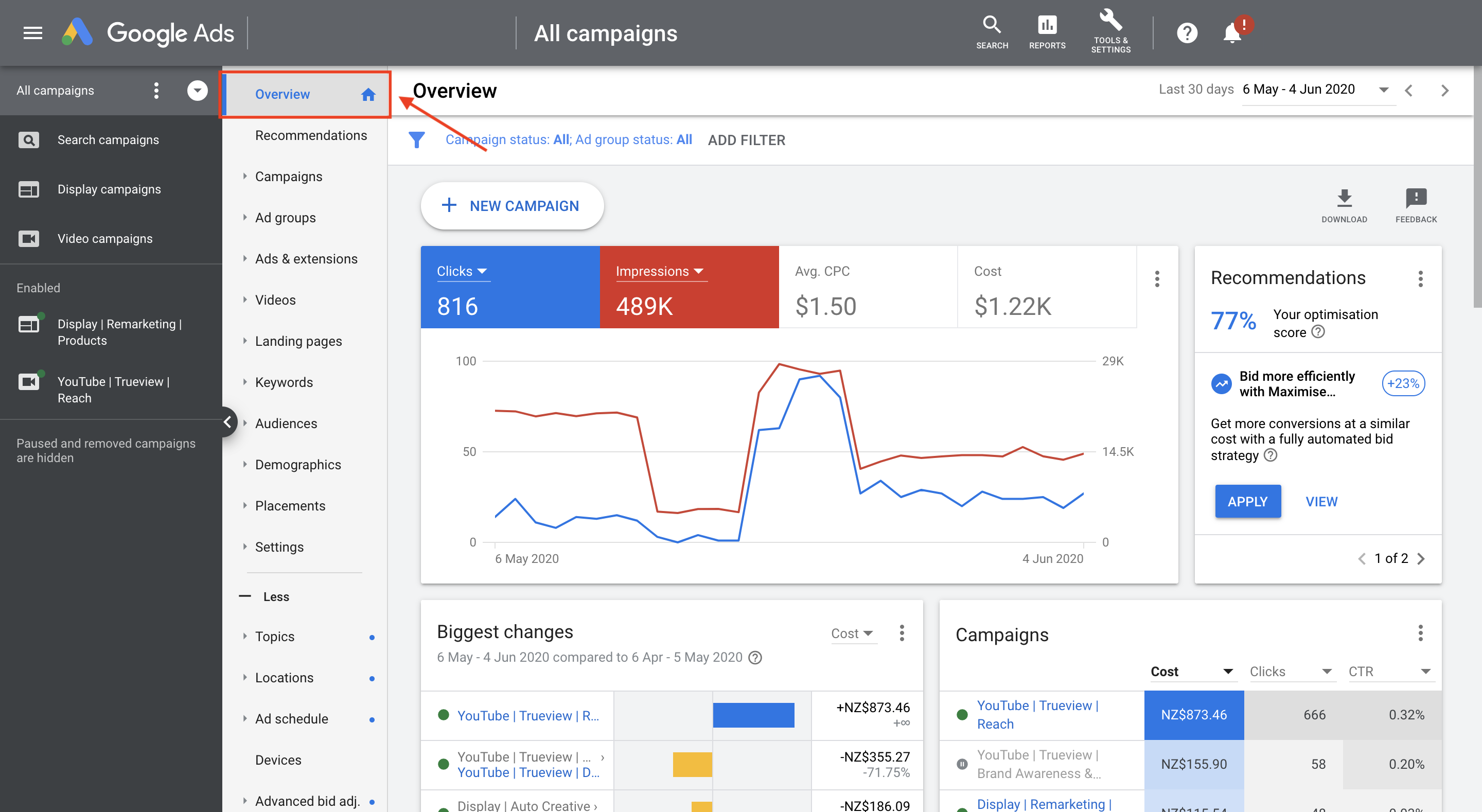 Google Ads Navigation
Sign In To Your Google Ads Account & See The Overview Page
First, sign in to your Google Ads account and you will be directed to the Overview Page.
The Overview page lets you review your performance at a glance. It's the first place you land when opening your Google Ads account, and includes a summary of your performance and important insights.
The Navigation Panel

To move among your campaigns and ad groups, use the navigation panel on the far left-hand side.
On smaller screens, the navigation panel is hidden by default. To reveal it, click the menu icon on the topmost left-hand side or click the arrow icon.
You can filter your campaigns and ad groups in the navigation panel. This also filters what you see in your main account workspace.
The Page Menu

Next to the navigation panel is the page menu, where you can find many important features quickly and easily. Here you can move among your main account pages, like "Ad groups," "Ads & extensions," or "Keywords."
The page menu options change depending on where you are in the navigation panel. Only the options relevant to the chosen campaign or ad group will show in the page menu content.
What you see in the main workspace relates to what you've selected in the navigation panel. So if you're on a particular ad group, and you select the settings page, the information you see and actions you take relate just to the settings for that ad group.
Your Campaigns

Use your Campaigns page to create and manage your campaigns. Click All campaigns in the navigation panel, and click Campaigns in the page menu to continue. To create a new campaign, click Blue + Button.
If you'd like to add new ad groups, keywords, or ads, just click the specific page in the Page menu and look for the Blue + Button.
Check Your Campaign Performance

To see campaign performance, just go to the Campaign in the Page menu or click Ad groups, Keywords, or Ads, to see more.
You can check how often your ad showed in the Impressions (Impr.) column. The Clicks column shows the number of times people clicked your ad.
Your Keywords

Click Keywords in the Page menu to continue. Keep an eye on your keywords. Keywords match your relevant ads to searches people make on Google.
To get the best results, regularly check how your keywords are doing.
The Tool Icon

Access essential optimisation and planning tools by clicking the tool icon. Features like "Billing & payments," "Keyword Planner," "Conversions," and "Audience manager," are in the main tool menu.
Go to the help icon to find help resources and access "Guided steps" to help you get things done. The bell icon shows critical account alerts.
If you are having an issue, we can help. Please get in touch.
Google Ads (formerly Google AdWords and Google AdWords Express) is an online advertising solution that businesses use to promote their products and services on Google Search, YouTube, and other sites across the web.
Google Ads also allows advertisers to choose specific goals for their ads, like driving phone calls or website visits.
With a Google Ads account, advertisers can customize their budgets and targeting, and start or stop their ads at any time.
How Does Google Ads Work?
Google Ads works by displaying your ad when people search online for the products and services you offer. By leveraging smart technology, Google Ads helps get your ads in front of potential customers at just the moment they're ready to take action.
You start by selecting your goal, like getting more visitors to your website or more phone calls to your business.

Next you select the geographic area where your ad should be shown. It can be a small radius around your business or much broader, like cities, states, or entire countries.

Finally, you'll craft your ad and set your monthly budget cap.
Once your ad is approved, it can appear whenever users in your target area search for a product or service like yours. You only pay when users engage with your ad, like clicking your ad or calling your business.
How To Sign Into Google Ads?
To sign in to Google Ads:
Go to the Google Ads homepage (

https://ads.google.com/home/

).

Click the Sign in link at the top right of the page.

Enter your Google Account email address, alternate email address, or Gmail username in the Email field.

Enter your password in the Password field.

Click Sign in.